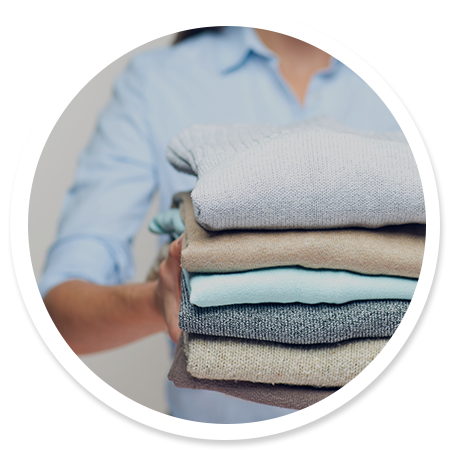 Simplify Your Tedious Laundry Routine
Have you been looking for a solution to your time-consuming laundry routine? What if there was a solution for every step of your laundry, from washing to folding and even delivery? At Mr. Fresh Laundry Services, that's exactly what you'll find! We take the time to give your clothes the same care you would in your home. If you're ready for a comprehensive solution to your laundry procedure, give us a call to set up washing, folding, and pressing services for all your valuables!
Why Should You Trust Mr. Fresh Laundry Services With Your Laundry Needs?
We can remove your tedious laundry routine so you focus on what matters
We offer free delivery within a 10-mile radius of Woodbridge
Our launderers have the experience, expertise, and patience to handle your requests
We offer a 100% satisfaction guarantee
And more!
Washing, Folding, and Pressing
Mr. Fresh Laundry Services is the only laundry shop you need to eliminate your entire laundry routine. Our washing, folding, and pressing package takes all the work off your shoulders so you can focus on more important things. Plus, if you live within our 10-mile radius in Woodbridge, we'll pick up and deliver your laundry for free!
We see it as our duty to provide personalized care for your most prized possessions. Whether that be your everyday clothing items, a meaningful blanket, or your favorite leather jacket, our exceptional customer service and attention to detail ensures the best results.
We make it a point to provide every customer with an experience that exceeds even their highest expectations. When you opt into our washing, folding, and pressing package, we give you the control you'd have when doing your own laundry without any of the work! Here's what you can expect when you use our laundry service:
Detergent — We offer a complete range of detergents for you to choose from so your laundry matches your personality. From scented to unscented versions, all of our detergents are eco-friendly, giving you the confidence to drop off your clothes and trust we are doing everything necessary to protect them and the environment!
Fabric Softener — What's better than that fresh-out-of-the-dryer feel to your clothes? When you turn to Mr. Fresh Laundry Services, we make that feeling last by giving you a full range of fabric softeners to choose from. Liquid fabric softener, high-quality dryer sheets, dryer walls — we've got it all! Which fabric softener will you choose?
Organization — Are you sick and tired of finding family member's socks and shirts mixed in with your laundry? Wondering how your favorite pair of pants got lost when you know they made it into the washer? With Mr. Fresh laundry Services, you can kiss those problems goodbye. We separate, wash, dry, and fold items by-person to ensure that every family member's garments remain in the correct hands.
If you're looking for the most hassle-free solution to your laundry routine, trust the professionals at Mr. Fresh Laundry Services. Our personalized approach to laundry ensures you will receive a welcoming, customized experience with every visit. Contact us today if you have questions, or book your appointment online right now!