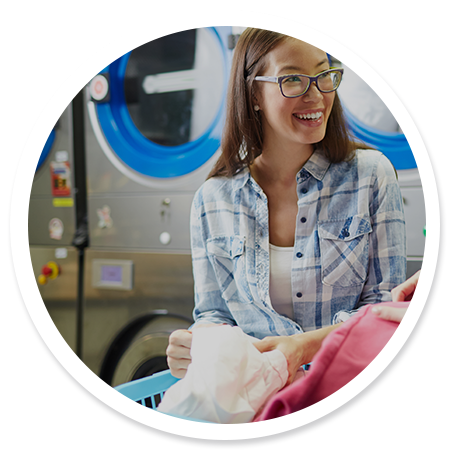 Enjoy Doing Your Laundry Again
We get it —going to the laundromat isn't something you normally look forward to. At Mr. Fresh Laundry Services, we set out to change that. By offering brand new machines, a welcoming environment, and plenty of amenities to keep you comfortable throughout your laundry routine, we're excited to welcome you home. Stop by our self-service laundromat today to see for yourself the difference a welcoming, state-of-the-art laundromat can make!
Reasons Mr. Fresh Laundry Services Is The Best Option For Self-Service Laundry:
We provide state-of-the-art washing machines and dryers from Electrolux
We make your comfort a priority so you feel like you're doing laundry at home
We carry enough washers and dryers to eliminate your waiting time
Our friendly staff members are always ready to help with any complications
And more!
Making the trip to the laundromat doesn't have to be a dreaded part of your weekly routine. At Mr. Fresh Laundry Services in Woodbridge, your comfort is our priority. That's why we created a laundromat that makes it feel like you're doing laundry in your own home, not some grungy laundromat.
Take advantage of our brand new Electrolux washing machines and dryers and finally realize what you've been missing by using those outdated appliances from the 1980s. Whether you don't have access to a washer and dryer in your current residence, or you're looking for a cost-effective alternative to purchasing your own appliances, you'll have access to state-of-the-art machines and the newest technology that will leave your clothes cleaner than ever. Here are just some of the benefits you can expect when visiting our self-service laundromat:
Versatility — We offer a tremendous selection of Electrolux washers and dryers that can handle multiple loads of laundry, ensuring you have the equipment to complete your laundry in an efficient time frame.
Save Money — If you use coin laundry correctly, you can save a hefty chunk of change. Rather than purchase your own washing and drying machines, use the spare change in your car at our laundromat. Not only will it save you money, our brand new machines can also deliver results that most in-home machines cannot.
Relax — We can't completely remove the waiting process of your laundry routine. What we can do, though, is provide you with a space you'll actually enjoy while waiting for your laundry to finish. Visit our laundromat in Woodbridge today to see for yourself! We offer plenty of working space for you to relax while waiting for your laundry. Curl up with your newest book, watch an episode of your favorite T.V. show, or find a quiet place to get some work done while you wait.
If you're looking for a self-service laundromat that exceeds your expectations, stop by Mr. Fresh Laundry Services today.