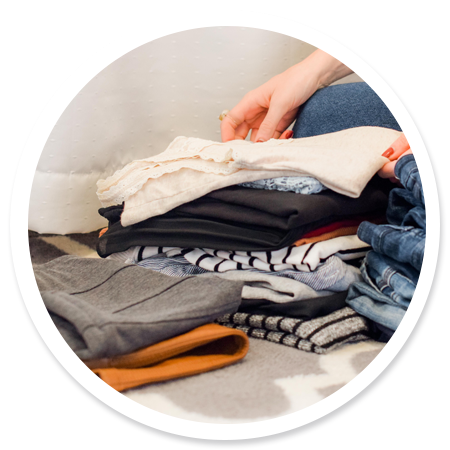 Give Your Garments The Attention They Deserve
Your specialty pieces of clothing deserve the kind of speciality care you can only find at Mr. Fresh Laundry. As Woodbridge's Top Rated Local® dry cleaner, we have the services to care for the toughest stains on the most delicate fabrics. Looking for safe cleaning options for your suede coat? We've got you covered! Need to remove some stains on your down jacket? We are excited to help! Plus, we do everything with eco-friendly cleansers to protect both you and the environment. Call us today for unbeatable dry cleaning!
Here at Mr. Fresh Laundry, we offer the best dry cleaning services on your most important items, including:
Suits
Dresses
Furs
Suedes
Silks
Leathers
And more!
Our team of dry-cleaning professionals at Mr. Fresh Laundry Services know how frustrating those pesky stains can be on your favorite dress, work shirt, or comforter. That's why we're committed to providing the best dry-cleaning services to residents in and around Woodbridge.
Our approach to dry cleaning is different from the norm. We recognize that your item is more than just a collection of threads — it's a valuable piece of who you are that requires tailored service. We care about each customer, and that extends to the dry-cleaning care we provide to your items. That's why we go through the following dry-cleaning process to meet your expectations:
Tagging — We tag items in every order individually to ensure it is thoroughly inspected and cleaned with the utmost care.
Inspection — Our inspection process identifies pre-existing stains, rips, and tears so we know what to target and how to do so effectively.
Stain pretreatment — Treating the stains before the full cleaning process allows us to give your garments the care and cleanliness they deserve. To protect your item further, we also identify damageable objects — such as delicate buttons — to care for during dry cleaning.
Dry cleaning — We clean your items using a water-free chemical solvent solution which loosens any soils on your garment. We then drain the solvent and complete the process again to remove any remaining stains.
Finishing — After the dry-cleaning process, we safely steam or press your garment to remove any wrinkles and prepare your article of clothing to wear again!
Our experience handling a variety of dry-cleaning requests allows us to provide the best service and results you can find, even for complex materials like leather and suede. We only use the best dry-cleaning solution to ensure harmful residues are not left behind, leading to refreshed fabrics that look and feel like you just bought them.
If you have a product made from fur, leather, suede, chiffon, rayon, or silk, or if your item contains sequins, beads, or metal studs, it is crucial to have it cleaned by a professional to avoid damage. Our professional dry cleaners at Mr. Fresh Laundry Services are prepared for your most prized possessions. Call us today for more information, or book your appointment online to avoid any waits!