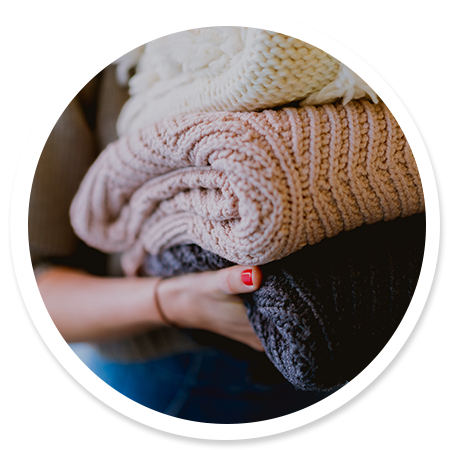 Trust Our Professionals With Your Most Delicate Items
There are some pieces of clothing that require a little extra love, and our professionals are prepared to care for your hand-wash only items as if they were their own! We use eco-friendly cleaning supplies to ensure that your items receive the safest cleaning without harming the environment. If you have special requests for your hand-wash-only clothes, we're eager to help
We Specialize In Hand-Washing Delicate Fabrics, Including:
Silk
Polyester
Acetate
Lace
Fine knits
Velvet
Chiffon
If you have delicate items of clothing that can't simply be thrown in the washing machine and left alone, you understand how time-consuming the laundry process can be. Even if it's just one item, you are required to go through the entire process of dissolving detergent into water, gently treating the fabric, soaking the item in the water, toweling it down, and waiting for it to dry.
The process doesn't have to be that exhausting when you trust the experts at Mr. Fresh Laundry Services. We specialize in delicate clothing care to ensure your favorite items are clean and protected without the hassle. Though we tailor our services to each individual customer and load of laundry, here's how our hand-washing process generally works:
Preparation — All items are safely pretreated for stains to ensure the best clean possible. We examine all labels and listen to any special requests before beginning pretreatment. After treating any stains, we prepare the bath by adding soap or detergent to room temperature water.
Cleaning — Once the solution is mixed properly, we submerge the items and gently agitate any stains out of the fabric. Depending on the fabric type, this process can take up to 30 minutes.
Rinsing and Drying — After appropriately cleaning the item, we rinse it with room temperature water until it is free of soapy water. Finally, we press the water out without wringing or twisting the item to ensure it keeps its shape and form. We finish the drying process by air drying your item and preparing it for pickup!
Whether you don't feel confident in your ability to hand wash your delicate items yourself or you simply don't have the time, we are eager to offer our expertise. Visit us in Woodbridge today to learn more about the various laundry services we provide.
From dry cleaning to laundry delivery, we are your one-stop destination for laundry requests. Book your appointment online!