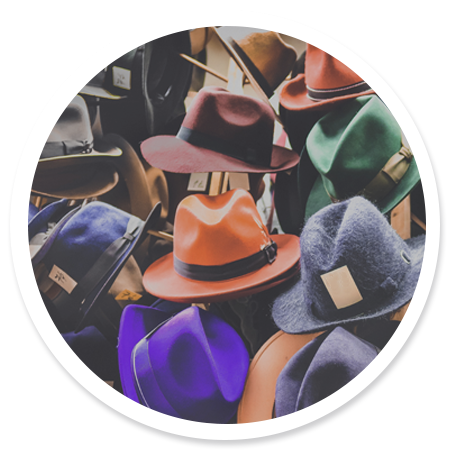 Don't Neglect Your Most Used Items!
When is the last time you remember washing your favorite shoes or hat? If you're like most people, chances are it's been awhile, if it's ever been done at all. It's time we start giving our most used items the care they deserve, and that begins with our footwear and hat cleaning services. If you notice your headwear and footwear picking up some stains and smells, schedule your footwear and hat cleaning services today to make your trusty garments like new again!
We Can Clean Your Most Unique Materials, Including:
Leather
Sheepskin
Canvas
Felt
Straw
Cotton
Denim
And more!
Everyone has a go-to hat or pair of shoes they throw on when nothing else will do. They probably get more use than anything in your wardrobe, but that is far from the truth when it comes to how often they are washed.
These common items often go by the wayside when it comes to your laundry routine. It makes sense given their unorthodox fabrics and shape, but maintaining their cleanliness is just as important as your normal load of laundry. That's where Mr. Fresh Laundry Service comes in with invaluable services you'll love.
Hat Restoration
If you've ever had a favorite hat that you can't seem to keep off your head, chances are you've felt the disappointment of seeing those sweat stains slowly become ingrained in your hat. Despite your best efforts to hand wash or spot clean the stains, it likely needs professional care to restore it.
Because of how visible your favorite hat is on top of your head, it's necessary to keep it free of dirt and other stains that can hurt your style. We utilize steam and eco-friendly hat cleaning services to remove the deepest stains that you thought were permanent at this point. All types of hats and caps are dried in a unique process using no heat, ensuring they stay true to size.
Plus, if you're looking to clean a specialty hat, like those made of felt or leather, water-based cleaning methods will actually damage it further. Instead of trying to clean it yourself and risk more damage, stop by Mr. Fresh Laundry today to give your headwear the cleaning care it needs.
Footwear Cleaning
When something is worn as much as your go-to sneakers, favorite dress shoes, or prized boots, the natural buildup of sweat and dirt is unavoidable. However, that doesn't mean you should settle for less! Whether you're looking to sanitize your running shoes or give your leather shoes the shine they've been missing, we have the shoe cleaning services for you!
Our comprehensive footwear cleaning goes through steps you wouldn't be able to do on your own, including:
Cleaning — We clean your shoes with the safest materials for certain fabrics to remove sweat and other stains.
Conditioning — After removing the stains, we condition them to uphold their integrity.
Deodorize — Our cleaning process removes any of the smells that may have been stuck in your footwear.
Sanitize — We finalize the shoe cleaning process with sanitization to disinfect any remaining bacteria.
After cleaning, we air-dry your shoes to prevent issues with pasting, color, or cracking. From sheepskin to leather to canvas, we can handle the most unique, delicate materials and make your shoes look new. Contact us today to learn more about your options for customized hat and footwear cleaning.